Careers
Financial PR is one of Asia's fastest growing investor relations specialists. Headquartered in Singapore with offices located in Hong Kong, Taiwan and the People's Republic of China, we're always on a look-out for the upper echelon – people who are passionate about communication; understand the dynamic pulse of equity markets; and genuinely desire to make an impact on businesses.
People have been and will be our engine for growth and nothing is more important than grooming the next generation of leaders at Financial PR.
Fast-paced, stimulating, highly interactive – we are very proud of this platform that we offer. We have got world class ambitions and we are now opening up to welcome the best to join us. In short, we have an A-class vision and we are looking for Grade A players to come on board. In return, we offer you training, mentorship and opportunity, a chance to create the proudest works of your life.
Career Progression
At Financial PR, we are excited about growing. We are passionate about what we do and are always searching for likeminded people. We hunger to learn, dare to venture, and are driven to overcome. Regardless of where you are at in your career when you join us, we believe there's always room for learning and development.
A career at Financial PR follows a clear trajectory of advancement. By offering training, mentorship and opportunity, we are confident of building an elite workforce empowered to move both upwards and onwards.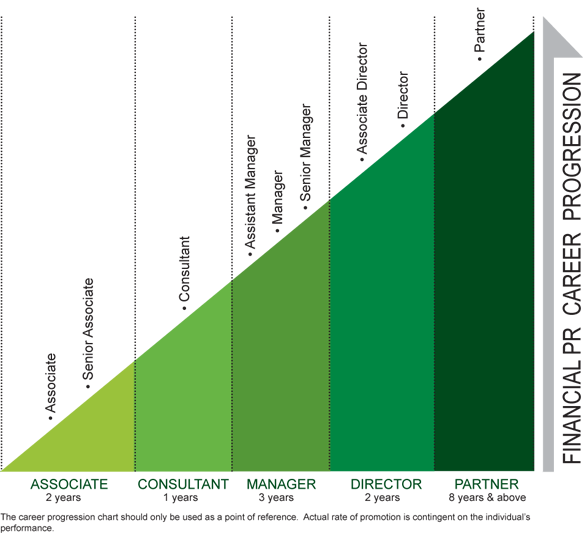 For career enquiries, please email recruitment@financialpr.com.sg